LifeStraw Alternatives: 8 Portable Water Solutions that Work
Whether trail running, hiking, or planning for an emergency… clean portable water is critical for your well-being – and we all know why carrying around a plastic water bottle isn't going to cut it anymore. While most are familiar with the name brand of LifeStraw, this guide presents 8 LifeStraw alternatives, including some of the best-filtered water bottle options, for your consideration.
| | Preview | Product | Rating |
| --- | --- | --- | --- |
| 1 | | Nalgene Outdoor OG Atomicchild | 5/5 |
| 2 | | Waterdrop | 5/5 |
| 3 | | Etekcity Water Filter Straw | 4.7/5 |
| 4 | | Joypur Collapsible Filtered Bottle | 4.5/5 |
| 5 | | Sawyer Squeeze Water Filter | 4/5 |
| 6 | | Survivor Filter PRO | 4/5 |
| 7 | | SimPure Gravity Water | 3.5/5 |
| 8 | | Epic Nano Dispenser | 3/5 |
Why You Need Portable Water
You may need portable water if you hike or backpack in remote areas where you don't have access to clean drinking water. Even if a water source looks clean, it could be contaminated with harmful bacteria. Using a portable water filter – specifically one that includes activated carbon – helps reduce the risks of getting sick from drinking the water, and it allows you to fill up multiple bottles to bring with you as you hike or trail run. LifeStraw is one such option for portable water, but further in this guide, we present 8 alternatives to LifeStraw.
What is a LifeStraw?
LifeStraw is a water filtration system that many people have used to remove viruses, bacteria protozoa, and chemicals from their water, and is very lightweight, compact, and portable. Essentially, the Lifestraw water filter gives you access to clean emergency water sources from virtually any type of flowing or stagnant water, which is convenient if you don't have immediate access to more traditional water purification systems.
Reviewing LifeStraw Alternatives
To help you decide which one works best, we have researched and put together a list of 6 of the best alternatives to LifeStraw and included them below with a description as well as a few pros and cons. All of the water filters listed below work in a similar way to LifeStraw, but may be cheaper and more practical to use when camping, hiking, or backpacking.
#1 Top Fitness Favorite: Nalgene Outdoor OG Atomicchild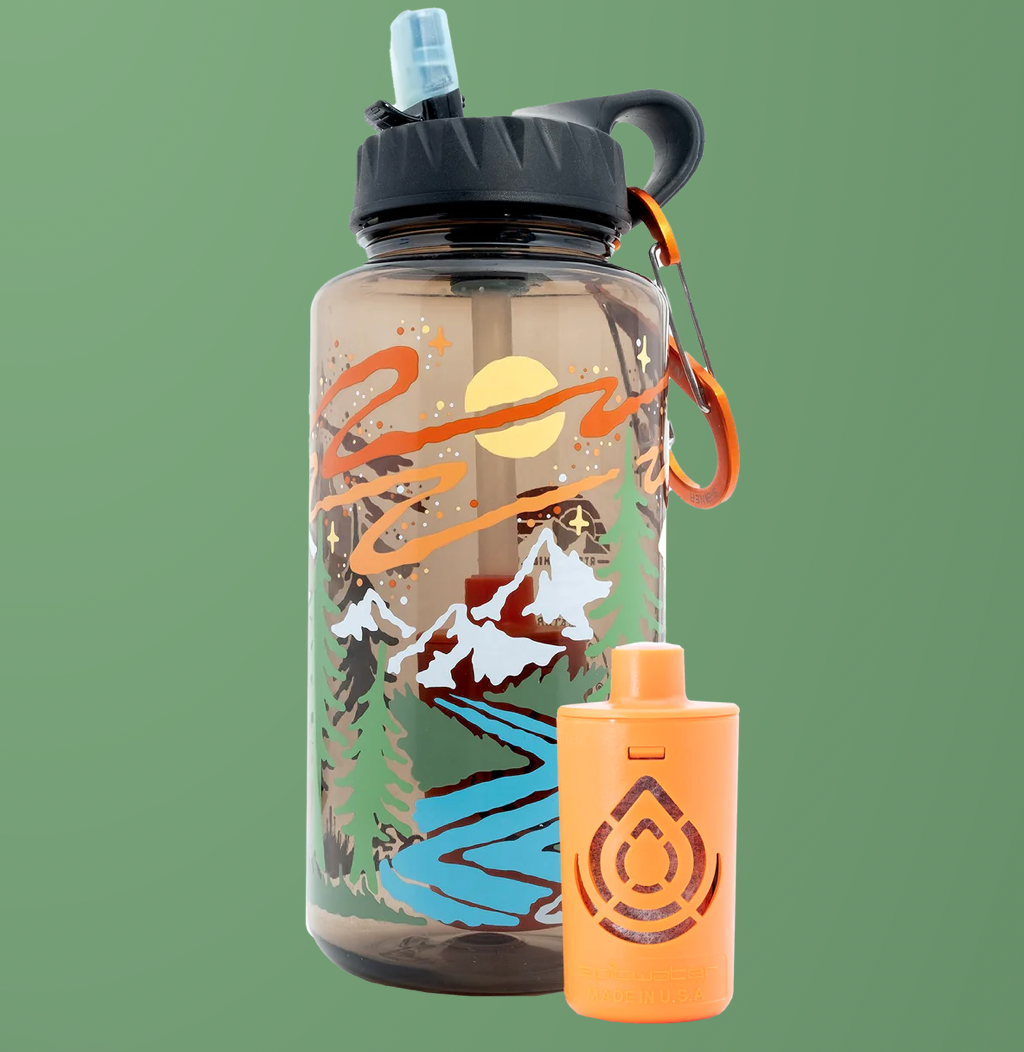 This is an American-made and tested bottle with a built-in filter that will give you access to clean water anywhere you are, whether that's in the office or on the trails. This 32 oz bottle is 100% recyclable, made from 100% BPA/BPS free Tritan plastic, and you can even enjoy a lifetime warranty with your purchase. The best part is that you only have to replace the filter every 3-4 months! Along with all the features and benefits, there is also an entire "Artist Series" of 11 different designs, so you can be sure to find the perfect one to fit your personality.
Pros-
Recyclable, sustainable, and durable
Eliminates the need to use plastic water bottles
100% BPA/BPS free
Several design options
Filter removes up to 70+ contaminants
Great for outdoor adventures
Cons-
Everything besides the filter is dishwasher safe – it is recommended to wash using just warm water and a brush
Can only be filled with room-temperature or cold water
May be difficult to suck water through the straw because of the filter
A little more on the pricey side, and replacement filters can get expensive – but is worth it, in the long run,
Water Filters
#2 Most Portable: Waterdrop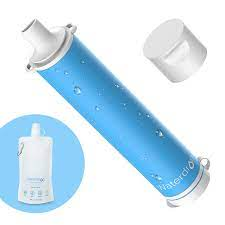 The Waterdrop is a water filter straw that can be used to filter water on the go. The filter is small and lightweight, making it a handy portable clean drinking water solution that fits in most pockets and backpacks. With a 0.1 hollow fiber membrane filter, this straw is designed to effectively trap contaminants and heavy metals found in natural water sources, making it safe to drink from any river, lake, or stream while hiking or camping.
Included with the filter are two water bags: one for storing unfiltered water and one for filtered water. There are three different ways to use this device, and even with regular use, you won't need to worry about durability or changing the filter. Just simply buy a new straw!
Pros-
Versatile – 3 different ways to use
Premium materials with compact design for convenient use
Suitable for outdoor entertainment, hiking, camping, traveling, and emergency situations
100,000-gallon capacity
Tiny 0.1-micron pores for thorough filtration
Cons-
Requires frequent backwashing to keep clean
The clean water bag needs to be held as it is filled
Not portable when attached to bags
No need to buy a new filter
#3 Best Price: Etekcity Water Filter Straw
Etekcity's portable straw filter is ideal for emergency and outdoor use. It will remove viruses, heavy metals, and 99.99999% of bacteria and protozoa each time you use it. It has a three-stage filtration system with a 0.1-micron hollow fiber filter to screen out large and small particles. You can use it in three different ways: drink straight from the water source, attach it to a water bottle, or use it with the included pouch.
You'll also be able to filter out 1,500 liters of water before you have to switch the filter out. The filters themselves are relatively inexpensive to replace. This device is a very lightweight and compact system that is easy and quick to operate, plus it is the cheapest option, so we had to include it! With the Etekcity portable water filter straw, you can take your explorations to the next level.
Pros-
Small, lightweight, portable
High filter cartridge capacity
Comes with dependable accessories, including a backwash cleaning device
Effective filter system
Cons-
Good for an emergency, but not for everyday use
Cheaper materials may break more easily
Has a lower rate of flow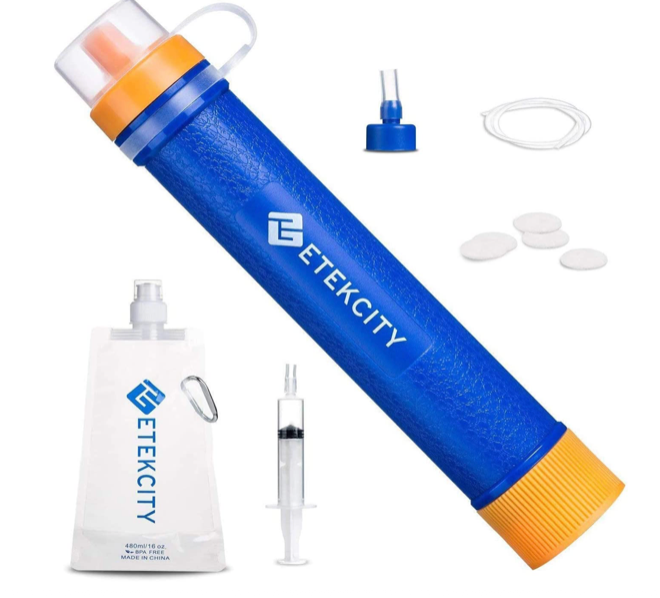 #4 Best Collapsible Bottle: Joypur Collapsible Filtered Bottle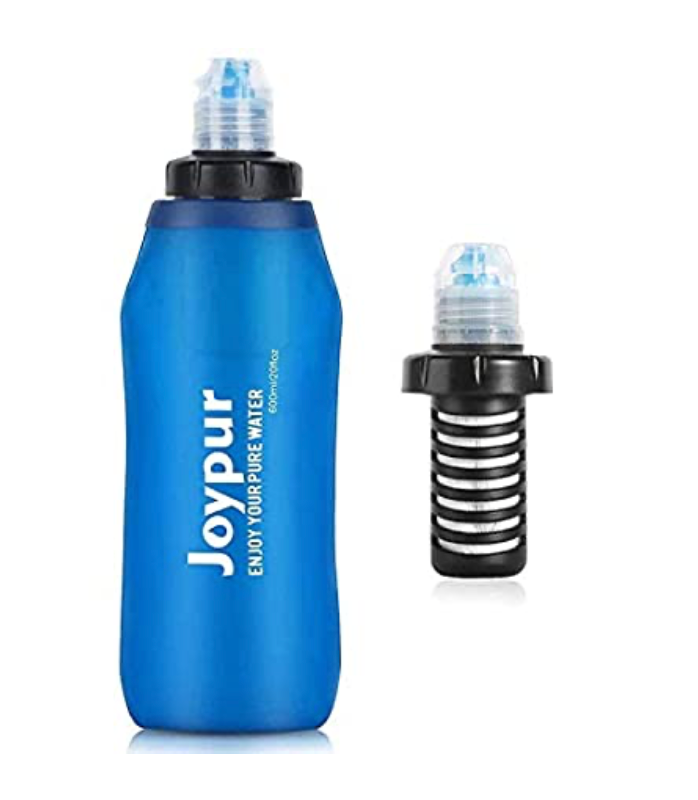 If you need a water filter bottle for trailing, hiking, or traveling, this one is the way to go. It's easy to carry and very lightweight, even when full. The filter is suitable if you want to filter dirty water from any source fast. It is easily replaceable and can filter about 530 gallons of water before needing to be replaced. It's also collapsible, so you can fold it away without taking up much space when not in use. This device comes in 5 different colors and also offers satisfaction guaranteed lifetime warranty!
Pros-
Soft, compact, and collapsible
Lifetime warranty
Lightweight silicone material
Cheaper but still as effective
Cons-
Low capacity – only holds 21 ounces
Recommended not to fill with hot water
Bottle may leak
Some users report the taste of plastic
The filter may need to be replaced periodically
#5 Best Overall Value: Sawyer Squeeze Water Filter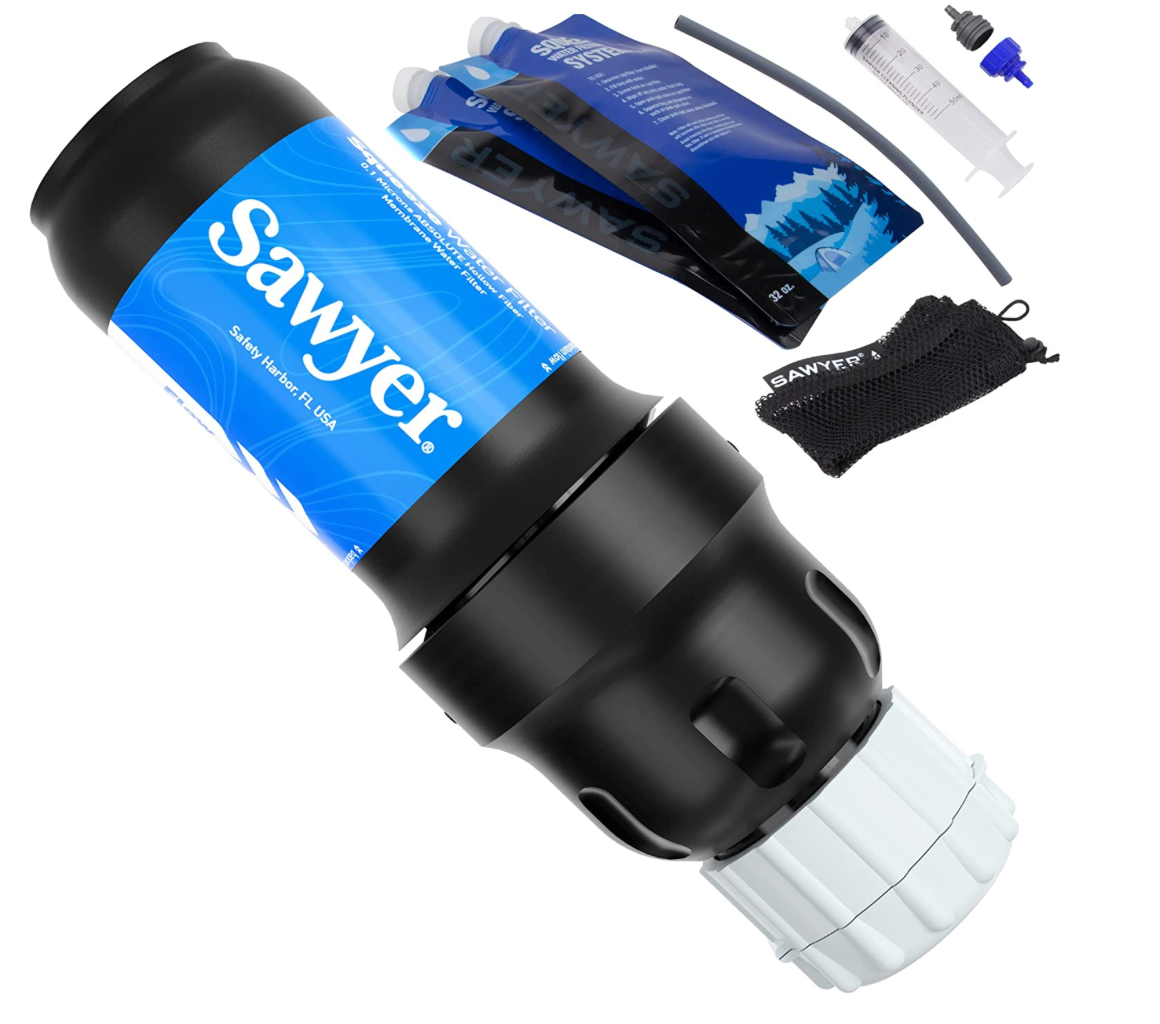 This one does an excellent job of filtering water. It is very similar to the Sawyer Mini filter as the entire kit weighs in at just under eight ounces, and this makes it excellent for people who don't have a lot of extra storage space. It can fill the average water bottle in just under 30 seconds, and you can use it as a drinkable bottle by itself.
It filters out 99.9999% of waterborne bacteria, viruses, and protozoa, and you get a fail-safe built right in that ensures you don't get contaminated water. You can also attach the included hose to filter large volumes of water. The carbon disks and filter cartridges are easily replaceable.
Pros-
Comes with a 5 ft hose
Very user-friendly design
Puts out clean water at 1.2 liters per minute
Cons-
Weighs in at just over a pound
Replacement filters can get expensive
#6 Best Survival Filter: Survivor Filter PRO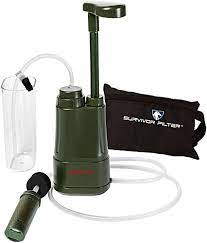 The Survivor Filter PRO comes with a three-part filtration system that can filter out viruses, algae, protozoa, bacteria, heavy metals, pesticides, and chemicals. The pumping action is much easier to work for extended times over a squeeze model.
This is a slightly bulkier and larger water purifier, but it could be a good choice for camping, backpacking, or taking out to more remote areas. The ABS shell is durable, and the carbon fiber filter is medical-grade. It's capable of screening 10,000 liters before you need to change it. You also get a lifetime warranty against damage or defects.
Pros-
Comes with a carrying case
Easy pump action to purify water
Gives you 99.999% filtration capabilities
Long-lasting carbon filter
Cons-
Bulky design makes it heavier and harder for on-the-go use
Only runs at 500 milliliters per minute
Some users report an unpleasant taste
Honorable Mentions:
Best Large Storage But Still Portable: SimPure Gravity Water purification system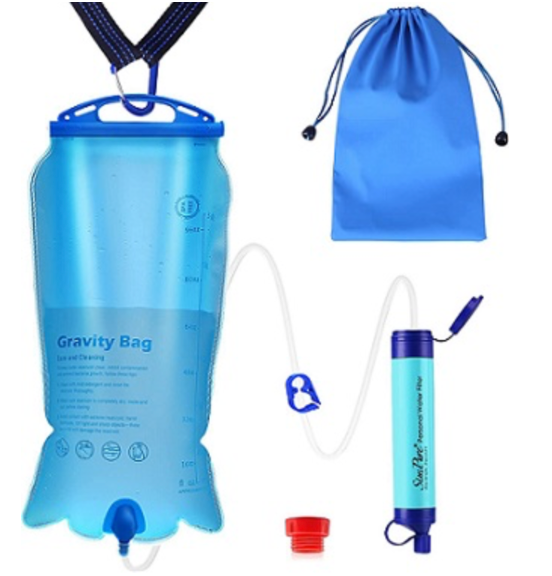 This portable water purifier may be better than standard disposable water bottles because it is durable and can last for 1,320 gallons or up to 3-4 years. The hollow 0.1-micron fiber features 5 multi-stage filtration methods that can effectively remove up to 99.9999% of heavy metals and harmful contaminants. The functioning of this system is easy, and it is very simple to use. It offers consumable purified water in just minutes and is great for backpacking, camping, and emergencies.
Pros-
Durable for up to 1,320 gallons
5-stage filter system
Lightweight, easy functioning
Speedy filtration
Portable
Cons-
Some customers received defective products
Best Dispenser for Large Groups: Epic Nano Dispenser
Pitcher filters can also be a game changer when it comes to purifying the water you drink. It is the first pitcher designed to remove up to 99.999% of all tap water contaminants. Designed primarily for home use or large groups, it can easily be filled up to 150 gallons and includes a filter that will last up to 3-4 months. It is also super simple to use.
Pros-
Large capacity and long-lasting
Effective filtration
Made from 100% recyclable Tritan plastic, BPA and BPS free
Filter life indicator tells you when to change filters
Lifetime warranty and satisfaction guarantee provide peace of mind
Cons-
Some customers had issues with leaking spouts or spigots
Others complained about slow filtration or clogged filters
The price for replacement filters can be hefty
The Final Drop: My Conclusion
No one wants to drink dirty water, and we all know that a plastic bottle isn't the answer. As you now know, there are a host of water filters and alternatives to the LifeStraw filter, each with its own varying features and drawbacks.
Now that you have reviewed our top options, it's up to you to decide what meets your needs! Maybe you prefer a water purifier bottle or something with a pre-filter or an activated carbon filter.
Keep in mind that you may want to consider getting two filters (these can be the same product or two different ones) in case the first is flawed or gets lost.